How do you get people to donate?
SOCIAL DESIGN I UX DESIGN I BRANDING I Motion Graphics
 
BE. is a social platform designed to connect non-profits and their community. We addressed the issues of how to get people to volunteer and how to help non-profits connect and maintain a relationship with their volunteers.
Kickoff
My Team: Sam Murray & Hyunsoo Park
We began by identifying the problem, identifying our stakeholders, and brainstorming.
Image 1: We worked through the situation by finding spaces in need of change and their relationship to the spaces for design opportunities as an influence cycle.
Image 2: Mapping out a narrative for this influence cycle
Image 3: We then started to divide up possible resources and stakeholders into categories of influence, whether they can contribute or require assistance.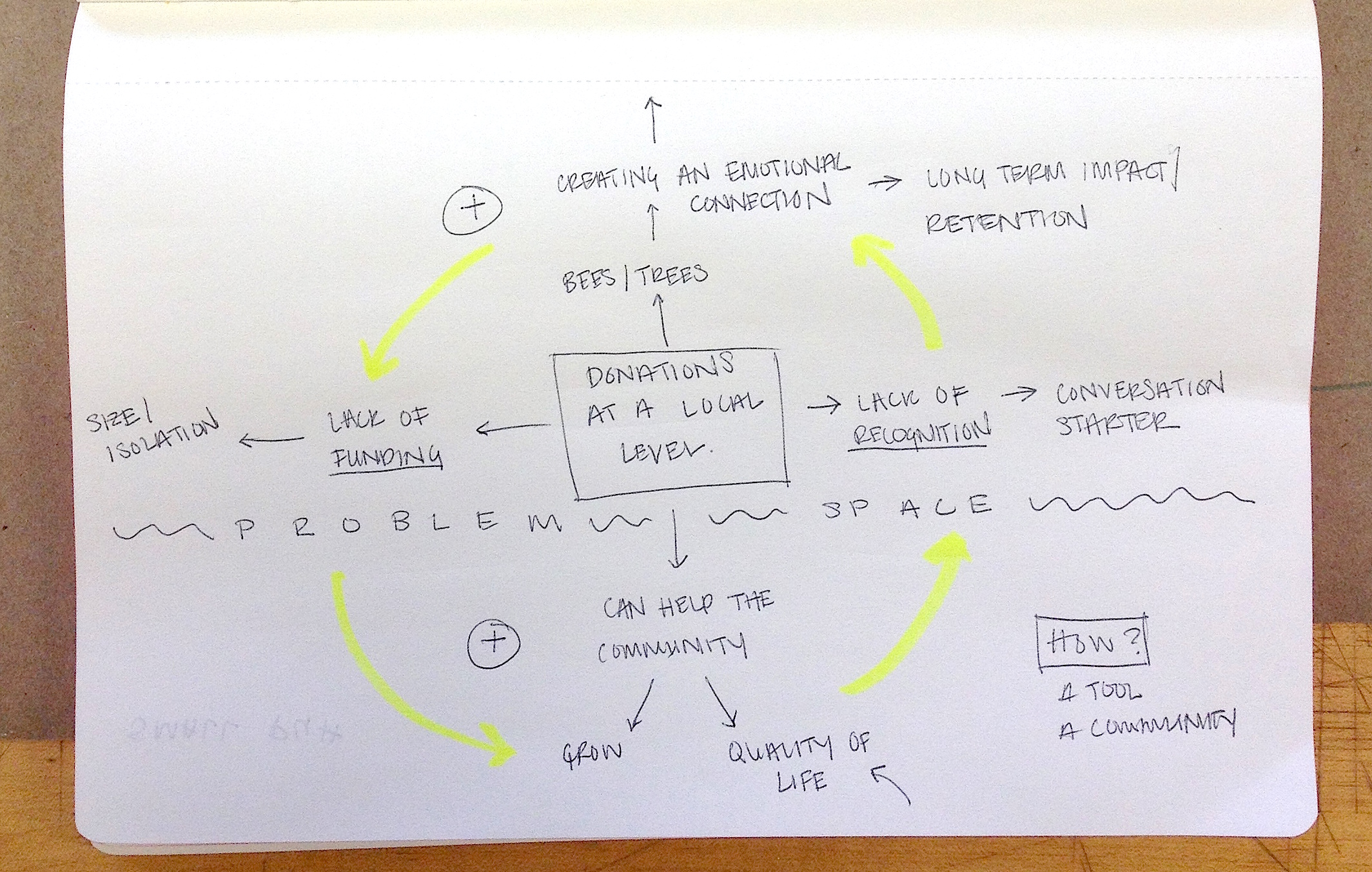 Audience & Goal
How can we...
Engage new transplants with charities or non-profits in their community?
Change the way people thing about donations?
Partner with local charities and non-profits to create a network of giving?
Support the Pittsburgh community to give it a sense of place?
Research
How do we get people to donate their socks? We learned by immersing ourselves into a focused problem space.
We tested various methods to find out what engages people, but more importantly, what drives someone to take action. Image 3 maps the 3 methods we tested all around the goal of getting people to donate their socks to the Pittsburgh homeless.
We found out it was hard. People did not go out of there way to give their socks when informed. People did not prioritize bringing their socks without incentive. People were the most likely to donated when confronted in-person at their homes where they could easily offer socks while we waited to collect them.
Field Research: Volunteering for Habitat for Humanity
Hyunsoo attended a build day with Habitat for Humanity. Instead of acting as the charity this time, he was a student volunteer.
" Here, I thought there was something missing that motivated me to continue volunteering. Although supervisor told me to comeback, it wasn't enough to have a motivation to continually volunteer.
Following the previous point, lack of feedback/follow up contributes to the lack of motivation. I worked diligently for 6 hours helping to build a house, I would love to see the progress of the construction after the event. However, I just received an email, which seemed like an automatically generated email."
CONCEPT DEVELOPMENT
Having better defined our scope and audience, we focused our project on helping people learn about what's going on around them, making it easier to become involved through discovery, and giving them tools for better engagement.
Doing something for yourself, for your community, and then for the world. Our first name was "Do-Nation," a play on the word donation. We felt that it didn't strike the emotional chord we were intending. People knew they should do more but we wanted to tell them what they could become by taking action. We chose BE and used the name as a way to introduce and explain how a small volunteer experience, when part of a greater movement can impact a whole community. We chose the logo shape to symbolize communication.
Final Product
Brand Video to communicate mission I Desktop platform for non-profits and charities I Mobile app for volunteers
http://seniorstudiodonations.tumblr.com/